Welcome to Magic Smoke Electronics
Magic Smoke is a licensed source for some of
Thomas Henry's books
on do-it-yourself musical electronics as well as the source for exclusive analog synthesizer circuits and
"tempco" resistors
.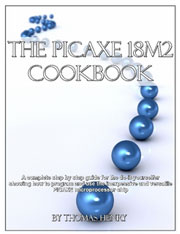 Announcing a new book by Thomas Henry!
The PICAXE 18M2 Cookbook
The revolution in low-cost microcontrollers has enabled DIY enthusiasts to create projects they never could have pulled off before. But these devices can be intimidating and frustrating to use, especially for newcomers. Expensive prototyping and programming systems, difficult programming languages and hard to decipher data sheets have kept many from using these modern miracles. Until now...
Click here for details on this new book!
Current Products:
Books by Thomas Henry
DIY Analog Synthesizer Parts
Keep up with Magic Smoke: subscribe to Smoke Signals, our mailing list.